HardcoreGamer: PowerA Accessories Bring Luxury to Nintendo Switch
PowerA offers a variety of accessories to keep your Nintendo Switch safe while on-the-go with our Everywhere Messenger Bag, Hybrid Cover, the Joy-Con Comfort Grip and keep your Switch charged using our Joy-Con Charging Dock.
The first thought crossing your mind upon opening the Nintendo Switch box was likely "I have to be really careful with this." Although Nintendo consoles are generally built to last, Switch seems fragile. After all it's really just a tablet with plastic stuff that hooks into it, so it's not going to be a good idea to throw it around too much. As such, many gamers are probably on the hunt for accessories to keep their Switch safe and PowerA was kind enough to send over their initial offerings for us to check out.
Everywhere Messenger Bag
Out of all the Nintendo Switch bags to hold the whole shebang on the market so far, this is the most attractive option. Other bags went with a more clamshell carrying case design, but the Everywhere Messenger Bag is stylish enough that it would pass for a standard briefcase-style messenger bag if not for the Nintendo Switch branding. Being an officially licensed accessory (as are all of PowerA's Switch offerings), there is a large Nintendo Switch logo on the outside of the two-toned bag (grey and black) and the same logo filling the lining of the bag, both of which lend it a nice sense of authenticity. The bag can hold the entire Nintendo Switch system — dock, charger, controller and all — in the bag via fitted compartments and has an internal case that can be removed for when just the Switch needs to travel. With a MSRP of $34.99, it's not a bad deal considering a case for the tablet portion alone costs around $19.99.
The Everywhere Messenger Bag is available at Best Buy, Amazon, GameStop and other retailers.
Hybrid Cover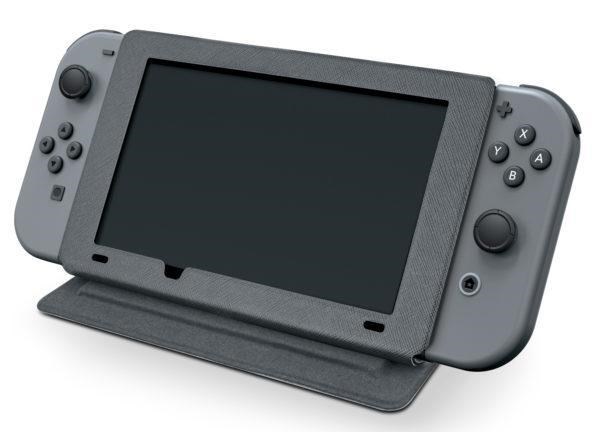 The Hybrid Cover is a bit of a strange beast (as evidenced by its name) as it only covers the tablet portion of the Switch and not the Joy-Cons. A magnetic closure wraps the cover around the console, protecting the screen from drops and scratches. Another function is the ability to adjust the case to prop up the Switch, allowing for multiple viewing angles that the Switch's internal kickstand can't provide. There's also a bonus screen protector included which while decent enough should be considering throwaway considering the purpose built options on the market. While a full case (such as the one found in the Everywhere Messenger Bag) provides better protection, the Hybrid Cover is a fine option for those who won't be traveling with their console and simply want to protect the screen.
The Hybrid Cover is available at Best Buy, Amazon, GameStop and other retailers.
Joy-Con Comfort Grip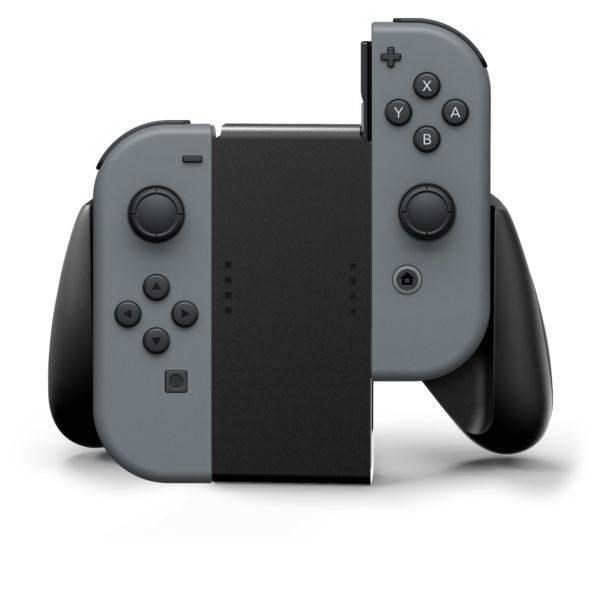 One of the most shocking things encountered upon opening up the Switch box is that the controller grip is just a simple piece of plastic that the Joy-Cons slide into. There's nothing to them and their only purpose is to make using the Joy-Cons more comfortable when playing on a TV or tabletop. For those who don't want to use a Pro Controller, this has opened up the market for alternative grips to release. PowerA will release the Joy-Con Comfort Grip later in March, which is basically the same thing as the grip in the box, but covered in rubber. This makes it more comfortable to hold, but probably not worth the $9.99 to upgrade. The best Joy-Con grip option will be one with a power bank built in to keep the controllers charged, but sadly doesn't exist yet. If you need a replacement grip or a new one for some spare Joy-Cons for whatever reason (like if you really want a red grip which this also comes in), however, this is a fine option.
The Joy-Con Comfort Grip is available at Best Buy, Amazon, GameStop and other retailers.
Joy-Con Charging Dock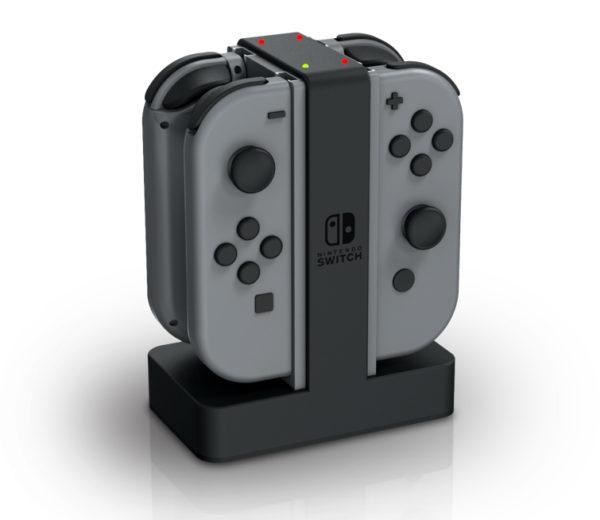 Speaking of charging Joy-Cons, PowerA will be releasing a Joy-Con Charging Dock later in March. Priced at $24.99, this allows up to four Joy-Cons to be charged simultaneously, which is handy for those who have purchased a second set or don't want to have to hook them to their Switch to charge when not playing. With individual LEDs showing the charge level for each Joy-Con and a weighted base for stability, this is a great option for those seeking alternative charging methods.
The Joy-Con Charging Dock is available at Best Buy, Amazon, GameStop and other retailers.