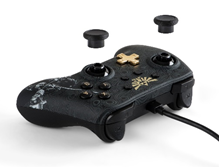 Features:
6 Interchangeable analog caps for custom control
Soft-touch rubber grips for added comfort
10ft Removable USB Cable
Basic Usage:
Connect multiple wired controllers to the Nintendo Switch Console at a time. On-screen notifications will indicate which USB channel each controller is connected to.
The Nintendo Switch Wired Controller Plus features interchangeable Analog Caps. There are a total of (6) Analog Caps, including the 2 that come installed on the controller.
Interchangeable Analog Caps:
(2) Standard Concave with Wider Cap (default)
(1) Medium Concave
(1) Medium Domed
(1) Tall Concave
(1) Tall Domed