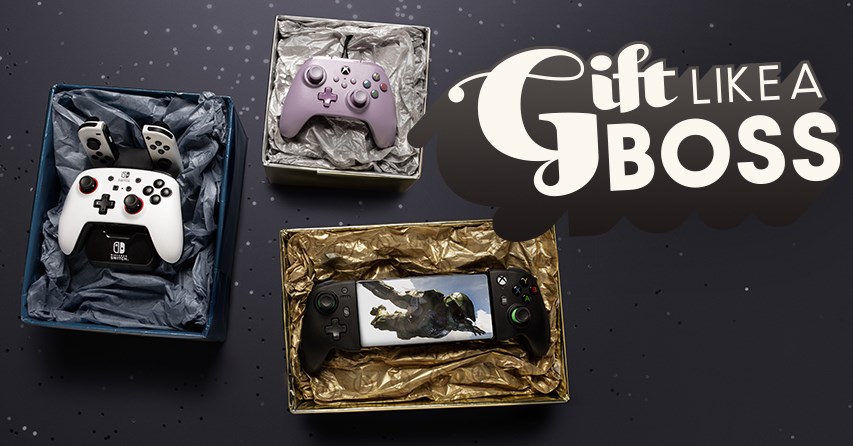 For the Play-Anywhere Gamer—Android Edition
Know someone who plays mobile or cloud-based games on their Android—or wishes they could? The MOGA XP7-X Plus Bluetooth controller is the ultimate gift for gaming on-the-go. This feature-packed wireless controller is officially licensed by Xbox and offers ergonomic comfort wherever gamers want to play.
The super-cool MOGA XP7-X Plus has a telescoping center and securely holds Android phones up to 7.13 inches, providing an immersive cinematic experience. An integrated 2000 mAh power bank can wirelessly charge compatible phones while gaming.
And when they're ready for tabletop play, the controller's integrated device stand can be hold mobile phones and most tablets. The MOGA XP7-X Plus can even be used on PCs running Windows 10/11.
Check it out here.
For the Play-Anywhere Gamer-iOS Edition
Have a gamer on your list rocking an iPhone or iPad? We've got you covered. The amazing MOGA XP5-i Plus is a full-function Bluetooth controller, that features an impressive 3000 mAh power bank that charges your device for epic gaming sessions or long road trips.
MFi-certified by Apple, this gamepad brings the finesse and features of console control to popular iPhone, iPad or AppleTV games. Its two mappable Advanced Gaming Buttons can be programmed on-the-fly, mid-action for pro-level performance. The ergonomic rubber-injected grips and dual-point articulating clip ensure comfort even in the most uncomfortable back seat.
Take a look here.
For Nintendo Lovers
Got an Animal Crossing or Pokémon fanatic on your list? Or maybe your throwback-obsessed cousin is super into Super Mario Bros., Legend of Zelda or Kirby?
Check out our selection of cool designs for Nintendo Switch controllers and cases. Characters like Pikachu and Link, favorite sidekicks and even villains will make Nintendo fans go truly berserk. Better still, several designs are available across matching cases and controllers, so die-hard fans can really show off their style anywhere.
Charge into the Holidays
Help make sure any gaming setup is always ready for multiplayer action with officially licensed PowerA charging solutions for wireless controllers
For Xbox Series X|S and Xbox One, the PowerA Duo Charging Station charges two controllers simultaneously and serves as an elegant display for when they're not being used. This sleek charging base comes in black or white.
Check it out here.
Playstation owners will love the Twin Charging Station for DualSense Wireless Controllers, which perfectly complements the futuristic aesthetic of both the PS5 console and the DualSense controller. The charging station features a weighted base for a secure footing and is powered by an AC adapter, so those futuristic gamepads can be displayed from anywhere in the room. And, it can charge two controllers at the same time. Sweet.
See it here.
Finally, if you've got a Nintendo fan on your list, the new Controller Charging Base for Nintendo Switch solves the age-old dilemma of being ready for a Mario Party at the drop of a plunger. This new charger has slots to charge Joy-Con controllers plus a cradle for any wireless Nintendo Pro controller or any PowerA wireless Nintendo Switch controller, including the FUSION Pro Wireless Controller for Nintendo and any of our other tether-free Nintendo gamepads.
Plus, the Controller Charging Base features a USB-C adapter for controllers so it minimizes the risk of jacking up your controller's USB-C connector when you're dropping it onto the base after taking the checkered flag.
See it in action here.
Whatever type of gamers are on your list this year, make their holiday with the coolest gaming accessories on Earth. Remember, when you gift like a boss, they game like pros.