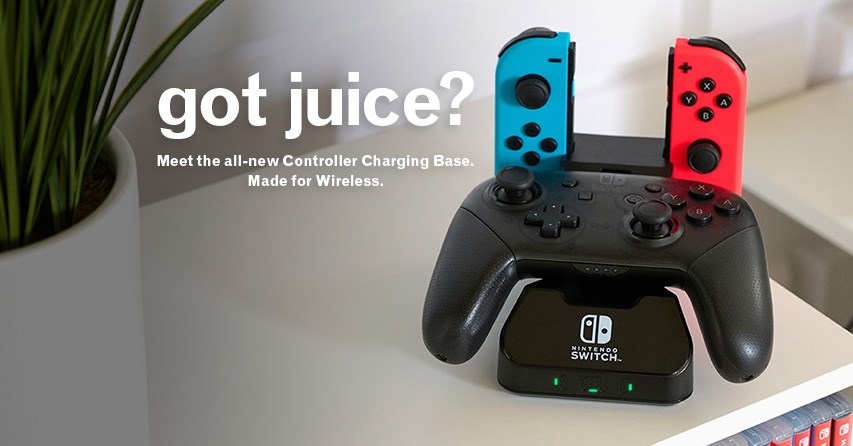 There are few things more disappointing than settling in for some quality game time only to find that your controller isn't charged. Maybe you're worried that making sure your gear is ready also means keeping an ugly web of cables dangling from the entertainment center. This is the gamer's dilemma: keep your space dedicated to gaming readiness but looking like a mess or maintain a tidy shelf at the expense of impromptu game time.
Now imagine organization and gaming readiness. It's a beautiful thing.
The all-new PowerA Controller Charging Base for Nintendo Switch lets you charge your Joy Con Controllers and a Nintendo Wireless Pro Controller simultaneously on one elegant power station. Better yet, the charging base also works with PowerA Wireless Nintendo Switch controllers—including our Enhanced Wireless, Wireless Nano and FUSION Pro controllers for Nintendo Switch.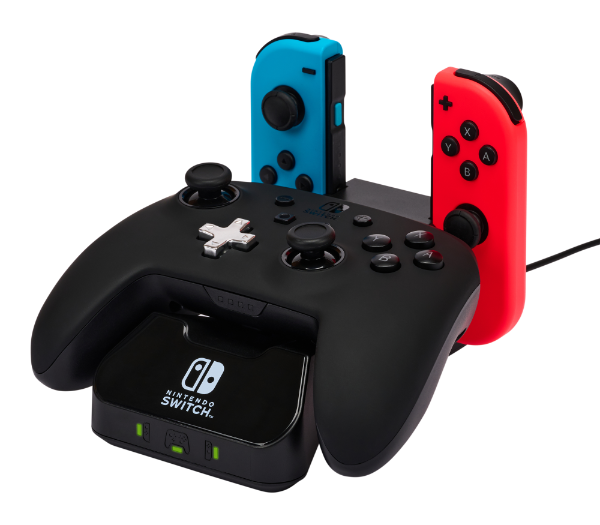 This new charging base for Nintendo Switch is super-easy to use. The Joy Con Controllers slide into the back section, and a wireless controller charges up front with an included USB-C adapter. The adapter lets you charge your controller without necessitating a physical connection, so you don't have to worry about damaging the controller when removing it. The adapter also stores securely in a dedicated slot when not in use, so you'll never misplace it.
Both the Joy-Con and the wireless controllers have their own LED charge indicator lights on the front of the charging base. The LEDs shine red when charging and turn green once your controllers are at full power.
Another great feature? The Controller Charging Base for Nintendo Switch has a weighted base, meaning it'll sit tight wherever its anchored. Rubber pads on the bottom ensure no-slips and steady footing.
The base's sleek low-profile design takes up a minimum of space and looks great, letting you keep your controllers proudly displayed until game time hits. A USB-powered cable connects discreetly to your Nintendo Switch device and further enhances the smart, organized look of your setup.
Now you can have it all: maximize your gaming readiness and keep your area clutter-free. The PowerA Controller Charging Base for Nintendo Switch is an essential addition to your setup that lets you do both.
You're welcome.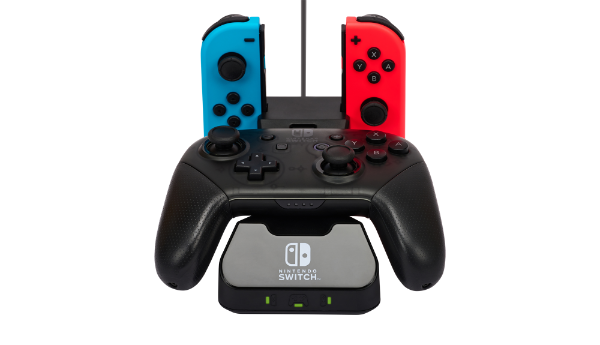 Controller Charging Base for Nintendo Switch