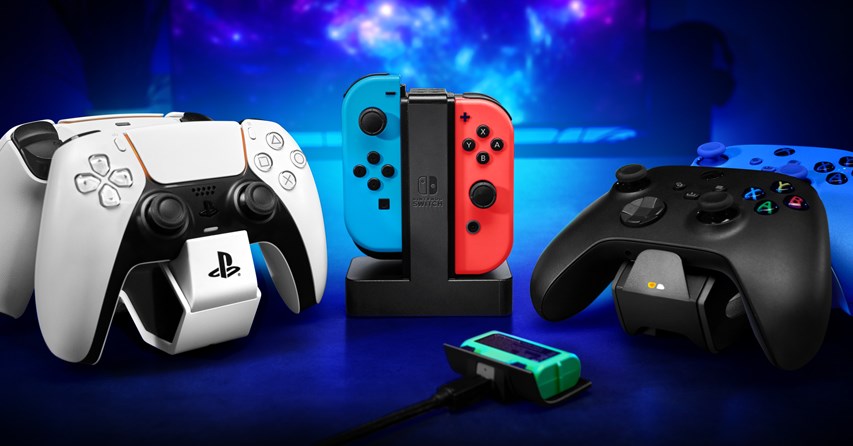 Forgot to charge up between sessions? Yeah, we all know that familiar dread when your battery suddenly dies mid-game. Don't be that gamer. PowerA has a charging station for every major console that's easy and fun to use, helping to make sure you're always charged up and ready for all bosses.
Let's dig in.
Twin Charging Station for DualSense Wireless Controllers
Show off your PS5 pride with this futuristic AC-powered DualSense charger. Officially licensed for PlayStation 5, the Twin Charging Station for DualSense Wireless Controllers lets you easily charge two controllers at once–just set them down and the LEDs on the DualSense light up amber, indicating they're getting charged. When the lights flash that familiar electric blue, grab your controller and get your game on. And whether they're charging or simply awaiting their next session, DualSense controllers look amazing docked into the Twin Charging Station, creating an awesome, eye-catching display.
Duo Charging Station for Xbox Series X|S
Need a powerful sleek Xbox charging station? Officially licensed by Xbox, the Duo Charging Station eliminates the cost of replacing disposable batteries, not to mention the frustration of inferior rechargeable power systems. Compatible with both the Xbox Series X|S or Xbox One controllers, this reliable Xbox controller charger comes with four charge-thru battery doors—two for Xbox Series X|S controllers and two for Xbox One controllers--plus, a pair of rechargeable batteries. Available in white or black.
Rechargeable Battery Pack for Xbox Series X|S
Getting in the zone is a lot easier when you've got the confidence of a rechargeable battery. Now, you can stop throwing away disposables and get up to 20 hours of Xbox gameplay per charge with an officially licensed PowerA Rechargeable Battery Pack for Xbox Series X|S or Xbox One. Compatible with our Xbox charging station, this pack is a no-brainer for any Xbox gamer who loves to live wirelessly.
Joy-Con Charging Dock for Nintendo Switch
For gamers who love to turn the Nintendo Switch into the ultimate party-gaming console, extra Joy-Cons are a must. The Joy-Con Charging Dock is the easiest way to make sure up to four controllers are ready to go anytime a party breaks out. Simply glide the Joy-Con Controllers down and wait until each LED turns green. Officially licensed by Nintendo, this charging dock looks great and delivers a reliable full charge you so and the crew can party on and on and on.