PowerA 2021 Holiday Gift Guide
With the holidays around the corner, PowerA makes gift giving for gamers a snap. No matter your skill level—or theirs—we've got you covered. From headsets to controllers and cases, wrap these babies up and deliver joy for the holidays, and savings to your pocketbook.
For the Dedicated Fan
Love Pokémon and Pikachu? How about Animal Crossing or Crash Bandicoot? We've got sweet gift bundles that bring together matching controllers and cases, made especially for die-hard fans.
Keep your console safe wherever adventure takes you with a PowerA case for Nintendo Switch. Pair it with a matching controller and bring your fandom to life. PowerA's Enhanced Wired and Wireless Controllers for Nintendo Switch feature Advanced Gaming Buttons, thoughtful ergonomic design, and gorgeous art from world-class designers. PowerA cases are manufactured with strong, lightweight materials to keep your Nintendo Switch safe, as well as storage for game cards, accessories and more.
Take advantage of our Match-up Deals this holiday season; buy a select controller for Nintendo Switch and get the matching case for 50% off. 
For the Aspiring Pro Gamer
If you and your squad want to go pro—or at least play like the pros—team communication is vital. Keep those comm lines open and clear with the FUSION Pro Wired Gaming Headset for Xbox Series X|S, and never miss a callout or strategy update.
The headset has precision-tuned 50mm drivers that provide high-fidelity stereo sound. They're also really comfortable thanks to breathable memory foam earpads that help reduce sweating and increase the time you're playing in the zone.
Now, for the holidays, you can pick up a Fusion Pro Wired Headset for $10 off. Check them out.
For the RPG Fanatic
From action RPGs like Diablo III to classics like Skyrim and The Witcher 3, there's a wealth of excellent roleplaying games on the Nintendo Switch. And every RPG gamer knows that sometimes there just aren't enough features on conventional controllers to have everything in the right spot for success. The FUSION Pro Wireless Controller for Nintendo Switch is a great gift for any Nintendo Switch RPG superfan. That's because this pro-level controller helps take RPG gaming to the next level with a Mappable Pro Pack, intuitive motion controls, swappable thumbsticks and more.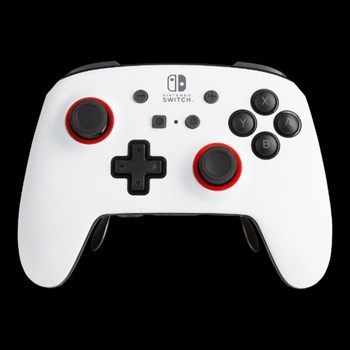 You can snag the FUSION Pro Wireless Controller for Nintendo Switch for $15 off. Check it out here.
For the Gamer with a New Console Under the Tree
Gifting a new Xbox Series X|S, Nintendo Switch or PlayStation 5 console for the gamer in your life? Consider putting a little something extra under the tree with a PowerA charging solution, officially licensed for any platform's controllers.
For Xbox Series X|S, we have the new Duo Charging Station, in black or white, that elegantly and efficiently charges two wireless Xbox controllers. The stand is also compatible with Xbox One controllers.
New PlayStation 5 owners will want to pick up a Twin Charging Station for DualSense Wireless Controllers. It's the perfect add-on. Powered by an AC Adapter rather than a USB cable, the Twin Charging Station looks amazing and can be set-up anywhere there's a plug, leaving those valuable USB slots on the console free and clear for additional accessories.
And if you're adding a Nintendo Switch to the home, check out the PowerA Joy-Con Charging Dock for Nintendo Switch. You can charge four Joy-Con Controllers at a time for multiple players, or keep an extra pair charged-up for extended gaming sessions.